Party Leader
SHRI MULAYAM SINGH YADAV
Shri Mulayam Singh Yadav Ji was born in Etawah on November 22, 1939. Fondly and reverently addressed as Netaji, he was greatly influenced by Shri Ram Manohar Lohia and joined the great socialist leader's movement during the 1950s to fight for farmers' rights. He was called 'Little Napoleon' by the former Prime Minister of India, Chaudhary Charan Singh.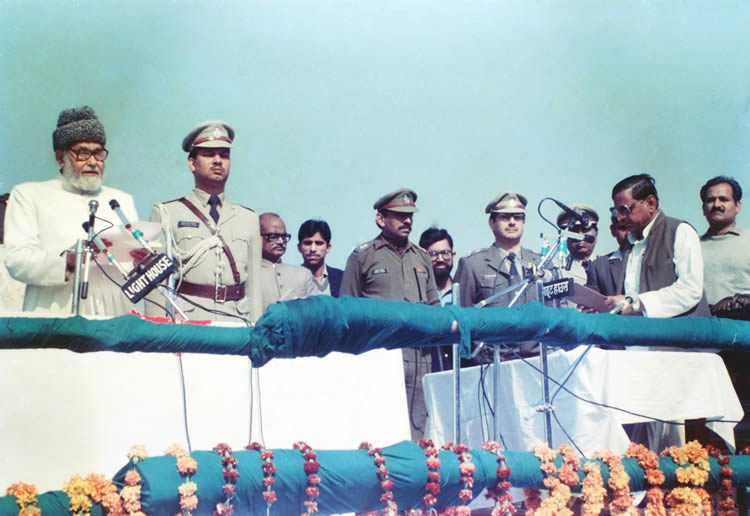 He first became an MLA in the UP assembly in 1967 and was jailed during the Emergency in 1975. Then came the time when the Samajwadi Party came into being in October, 1992. The party was driven by the socialist principles of India's great leader Shri Ram Manohar Lohia. Netaji has served as the Chief Minister of Uttar Pradesh for the terms 1989 to 1991, from 1993 to 1995, and from 2003 to 2007.
He implemented policies and took action to ensure that the poor and backward sections of society lived in harmony, and people from all religions, castes and social backgrounds contributed towards the growth of the state. He also served as the Minister of Defence in the Government of India from 1996 to 1998 in the United Front government. Under Netaji's leadership, the Samajwadi Party has become an umbrella for people belonging to various sections of society in villages and towns. Netaji has strived to make the Samajwadi Party a vehicle for the downtrodden and neglected sections of society. Under his instrumental and decisive leadership, the party has seen glorious terms and he continues to inspire all the party members to work and toil hard for the betterment of their motherland.Credibly engage cost effective platforms vis-a-vis just in time partnerships. Phosfluorescently recaptiualize end-to-end best practices whereas scalable e-business. Energistically e-enable 2.0 human capital rather than.
Featured Video
Samajwadi Party
Samajwadi Sangharsh Gatha